Welcome to Top Ten Tuesday!
Top Ten Tuesday was created by The Broke and the Bookish in June of 2010 and was moved to That Artsy Reader Girl in January of 2018. It was born of a love of lists, a love of books, and a desire to bring bookish friends together.
The Topic This Week Is:
Newly Discovered Authors In 2020
This year has been a good year in books in general. I have read quite a number of  very interesting books and I hope that the next half of the year will continue in this manner or even better. I have either been introduced to or stumbled upon some exceptional authors this year that have quickly joined my favorites list which means that I am going to read almost everything they have written and will be pre-ordering any new books to be released.
Most of these authors I have made this list because I have fallen in love with their style of writing or the themes in their stories and they are spread across different genres. I am always open to discovering new authors although sometimes it's feels like digging for gold in a rubble.
Anyway, here are my top ten newly discovered authors this year in no particular order.
1. Stacy Halls
Stacey Halls grew up in Rossendale, Lancashire, as the daughter of market traders. She has always been fascinated by the Pendle witches. She studied journalism at the University of Central Lancashire and moved to London aged 21. She was media editor at The Bookseller and books editor at Stylist.co.uk, and has also written for Psychologies, the Independent and Fabulous magazine, where she now works as Deputy Chief Sub Editor. The Familiars is her first novel
2. Emem Bassey
In an Emem Bassey novel, you'll find – romance, a chubby, naughty heroine, a captivating alpha male, hot love scenes, crime, adventure and a taste of Nigeria. She's into exhilarating action on the pages, loves guns and is a ghost to neighbors at her home Uyo, Akwa Ibom State, Nigeria. Most of her books can be found at www.okadabooks.com
3. Colleen Hoover
Colleen Hoover is an International and #1 New York Times bestselling author of romance, YA, thriller and Women's Fiction. And maybe a ghost story soon.
She doesn't like to be confined to one genre. If you put her in a box, she'll claw her way out. Her social media username is @colleenhoover pretty much everywhere except her email, which is colleenhooverbooks@gmail.com
Founder of www.thebookwormbox.com charity and Book Bonanza.
4.  M. C. Beaton
Marion Chesney was born on 1936 in Glasgow, Scotland, UK, and started her first job as a bookseller in charge of the fiction department in John Smith & Sons Ltd. While bookselling, by chance, she got an offer from the Scottish Daily Mail to review variety shows and quickly rose to be their theatre critic. She left Smith's to join Scottish Field magazine as a secretary in the advertising department, without any shorthand or typing, but quickly got the job of fashion editor instead. She then moved to the Scottish Daily Express where she reported mostly on crime. This was followed by a move to Fleet Street to the Daily Express where she became chief woman reporter. After marrying Harry Scott Gibbons and having a son, Charles, Marion went to the United States where Harry had been offered the job of editor of the Oyster Bay Guardian. When that didn't work out, they went to Virginia and Marion worked as a waitress in a greasy spoon on the Jefferson Davies in Alexandria while Harry washed the dishes. Both then got jobs on Rupert Murdoch's new tabloid, The Star, and moved to New York.
Anxious to spend more time at home with her small son, Marion, urged by her husband, started to write historical romances in 1977. After she had written over 100 of them under her maiden name, Marion Chesney, and under the pseudonyms: Ann Fairfax, Jennie Tremaine, Helen Crampton, Charlotte Ward, and Sarah Chester, she getting fed up with 1714 to 1910, she began to write detectives stories in 1985 under the pseudonym of M. C. Beaton. On a trip from the States to Sutherland on holiday, a course at a fishing school inspired the first Constable Hamish Macbeth story. They returned to Britain and bought a croft house and croft in Sutherland where Harry reared a flock of black sheep. But Charles was at school, in London so when he finished and both tired of the long commute to the north of Scotland, they moved to the Cotswolds where Agatha Raisin was created.
5. Lyssa Kay Adams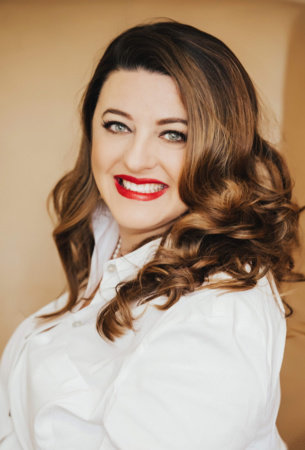 Lyssa Kay Adams is the pen name of an award-winning journalist who gave up the world of telling true stories to pen emotional romances. She's also a diehard Detroit Tigers fan who will occasionally cheer for the Red Sox because her husband is from Boston. Lyssa lives in Michigan with her family and an anxiety-ridden Maltese who steals food and buries it around the house and who will undoubtedly be a character in a future book.
Things Lyssa loves: Baseball pants, mashed potatoes, and that little clicking sound that scissors make on the cutting table at fabric stores.
Things she doesn't love: Mean people, melting ice cream cones, and finding food in her underwear drawer.
Keep up with Lyssa on Twitter at @LyssaKayAdams. Please note: She mostly tweets about baseball pants and mashed potatoes.
6. Abby Jimenez
Abby Jimenez is a Food Network winner and USA Today best selling author with her hit debut novel The Friend Zone. She founded Nadia Cakes out of her home kitchen back in 2007. The bakery has since gone on to win numerous Food Network competitions and has amassed an international cult following. Abby's wry literary wit was spotlighted as the admin behind the hilarious viral comments on the now famous Nadia Cakes Vageode ® cake. Abby loves a good romance, coffee, doglets, and not leaving the house.
7.  Sez Kristiansen
Sez is an internationally acclaimed poetess and author, born in Southern Africa under two generations from six different cultures. She has travelled extensively throughout her life, and lived in some of the remotest parts of the world, including many years spent in Sri Lanka deepening her spiritual practice.
After two children, Sez settled into a more conventional life and became a designer for some of the biggest fashion brands in Europe. After years of struggling with anxiety and chronic depression due to the societal pressures of being a mother and a working full-time in the fashion industry, Sez redesigned and downsized her entire life to fit the freedom and wanderlust she once resonated so deeply with.
Sez now lives in a hand-built cabin in the Nordics with her Viking husband and children and continues to travel adventurously throughout the world with her young family.
Sez empowers people with transformational mind, body and soul guides that inspire her readers to live truly unique, unconventional and untethered lives, driven by their own blueprint of freedom. Sez will awaken you to your own free-spirited nature, which has the power to guide you to your own truly authentic, abundant and deeply nourishing life.
8. Jina S. Bazzar
Jina S. Bazzar is a  freelance writer, a blogger, a mother, a baker, a chocolate fiend, a coffee enthusiast, and sometimes a poet. She was born and raised in a quiet, small town in Rio de Janeiro, Brazil, where she had a happy and fulfilling childhood.
Like most writers out there, her love of books began at a young age. Unlike most authors out there, she never aspired to become one. Soon after high school graduation she developed a chronic disease that caused gradual vision loss. She was blind at the age of twenty-three, and reading became one of many things she could no longer do.
This was until she started working for an organization for women with disabilities and learned about screen readers. After she quit her job, she picked up reading with vengeance, but soon realized it was no longer enough, and so she started writing, this time with an aim to pursue a career. She is now the author of the Roxanne Fosch Files series which consist of Heir of Ashes, Heir of Doom, Heir of Fury and The Curse ( A Novella) creations born from her love of anything fairy, of action-packed stories and a touch of romance. Besides fiction, she has written dozens of articles for Conscious Talk magazine, on topics of health, food, poetry and the writer's life.
When she is not writing or networking on social media, you can find her in the kitchen, listening to loud music while baking (often misshapen) goodies, or cooking favorite dishes. Her inspiration comes from almost anything, a discussion, a friend, an animal or plant, events, memories, music, etc – in other words, from life itself. Visit her blog HERE
9.  Kristen Bailey
Kristen Bailey is a British writer and a graduate of Bristol University. She has a couple of books under her belt such as Souper Mom and Has Anyone Seen My Sex Life?. She is married to Nick and they have five Children,
10. Jaimie Admans
Jaimie is a 32-year-old English-sounding Welsh girl with an awkward-to-spell name. She lives in South Wales and enjoys writing, gardening, watching horror movies, and drinking tea, although she's seriously considering marrying her coffee machine. She loves autumn and winter, and singing songs from musicals despite the fact she's got the voice of a dying hyena. She hates spiders, hot weather, and cheese & onion crisps. She spends far too much time on Twitter and owns too many pairs of boots.
She will never have time to read all the books she wants to read.
She is the author of chick-lit romantic comedies The Chateau of Happily Ever Afters and Kismetology, and she has also written young-adult romantic comedies Afterlife Academy, Not Pretty Enough, and North Pole Reform School.
---
So here we are!
Have you read any book by these authors?
What did you think?
I hope your week has been going well?
Best wishes!
---
Copyright © Biyai Garricks
Unauthorized use and/or duplication of this material without express and written permission from this site's author and/or owner is strictly prohibited. Excerpts and links may be used, provided that full and clear credit is given to Biyai Garricks, rovingbookwormng.com with appropriate and specific direction to the original content.