Welcome to Word Play Wednesday!
Word Play Wednesday is a weekly feature of written and spoken word poetry. I will be sharing my written and spoken word poems in addition to poems by other wonderful Poets both past and present. If you are interested in sharing some of your poetry, feel free to buzz me and we can work something out.
I hope that you enjoy reading and listening to our thoughts, feelings and rants and in many ways relate to some of them.
Enjoy!
This week I will be sharing a poem by one a spoken word poet, author and mental health advocate Bassey Ikpi whose poetry has inspired me so much and I hope you like her work too.
Sometimes Silence is The Loudest Kind Of Noise
Sometimes silence is the loudest kind of noise
Like sometimes it was best when
Girls were girls and boys were boys.
Like back when freeze tag was a mating dance.
Like back when "Do Over" meant you got another chance.
Like back when anxiety was worrying if Wonder Woman would make it out alive.
Like back when freedom was sliding backwards on a slide.
Like back when success was jumping off a swing and
Landing on your feet, then
Doing it all over again.
Like new shoes made you run faster.
Like getting Ms. Gross again for math was a disaster.
Like failure was a word we hadn't even learned to spell yet.
Like promises were sealed and kept with pinky bets.
Like a challenge was a double dare.
Like ugly was a cock-eyed stare.
And you liked it…
Like when you flipped your eyelids inside out
To impress that boy across the room,
'Cause that's all it took.
And there was no such thing as too soon,
As long as you checked the right box in that note from across the room,
The one that he…passed her.
Back when, "I don't know, maybe" was a legitimate answer.
Back when, "I need space" meant he needed more elbow room to draw,
So he got on the floor and he colored outside the lines.
Like the lines of color were on the floor,
So we just existed in sandboxes and playgrounds.
And we hop-scotched and dodgeballed
And everything I needed to know, I learned in a shopping mall.
Like don't wander off on your own,
Like know who you are,
Like know where you came from,
Like never let go of your mother's hand no matter what you do,
Like if you get lost, just stand there until someone finds you,
And someone will always look for you
Because someone will always miss you
And someone will always find you
And when you cry, someone will always remind you
In that quiet, quiet lullaby voice,
That sometimes silence is the loudest kind of noise.
-Bassey Ikpi
---
About the Poet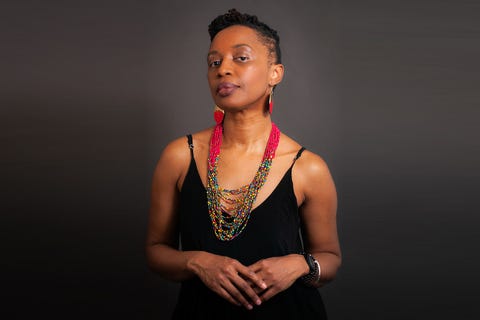 Bassey Ikpi is a Nigerian born poet/writer who was a featured cast member of the National Touring Company of the Tony Award winning Broadway show, Russell Simmon's Def Poetry Jam. Not a stranger to the stage, her poetry has also opened shows by Grammy Award winning artists. Recently, Bassey appeared on the NAACP Image Awards as part of a tribute to Venus and Serena Williams and was a featured performer for Johannesburg, South Africa's annual arts festival, Joburg Arts Alive. Bassey has been seen gracing the pages of magazines such as Nylon, Marie Claire, Glamour and Bust.
With social commentary being a focus of her work, Bassey recorded an original poem for the Kaiser Foundation's, HIV/AIDS campaign, Knowing Is Beautiful. Bassey's personal and heartfelt work has made her a much sought after performer. She is currently working on various screenplays as well as freelance writing for social media outlets. Her first completed collection of poetry and prose entitled, Blame My Teflon Heart: Poetry, Prose and Post-Its For Boys Who Didn't Write Back will be released soon. In addition to her writing, this summer Bassey is also embarking on a 5 city tour, appropriately called "Basseyworld Live", where each show will infuse poetry and interactive panel discussions on everything from politics to pop culture. Not only will she headline each show, but will also moderate the panel discussions, which will include special invited guests from various industries such as art, film and journalism.
---
Copyright © Biyai Garricks
Unauthorized use and/or duplication of this material without express and written permission from this site's author and/or owner is strictly prohibited. Excerpts and links may be used, provided that full and clear credit is given to Biyai Garricks, rovingbookwormng.com with appropriate and specific direction to the original content.